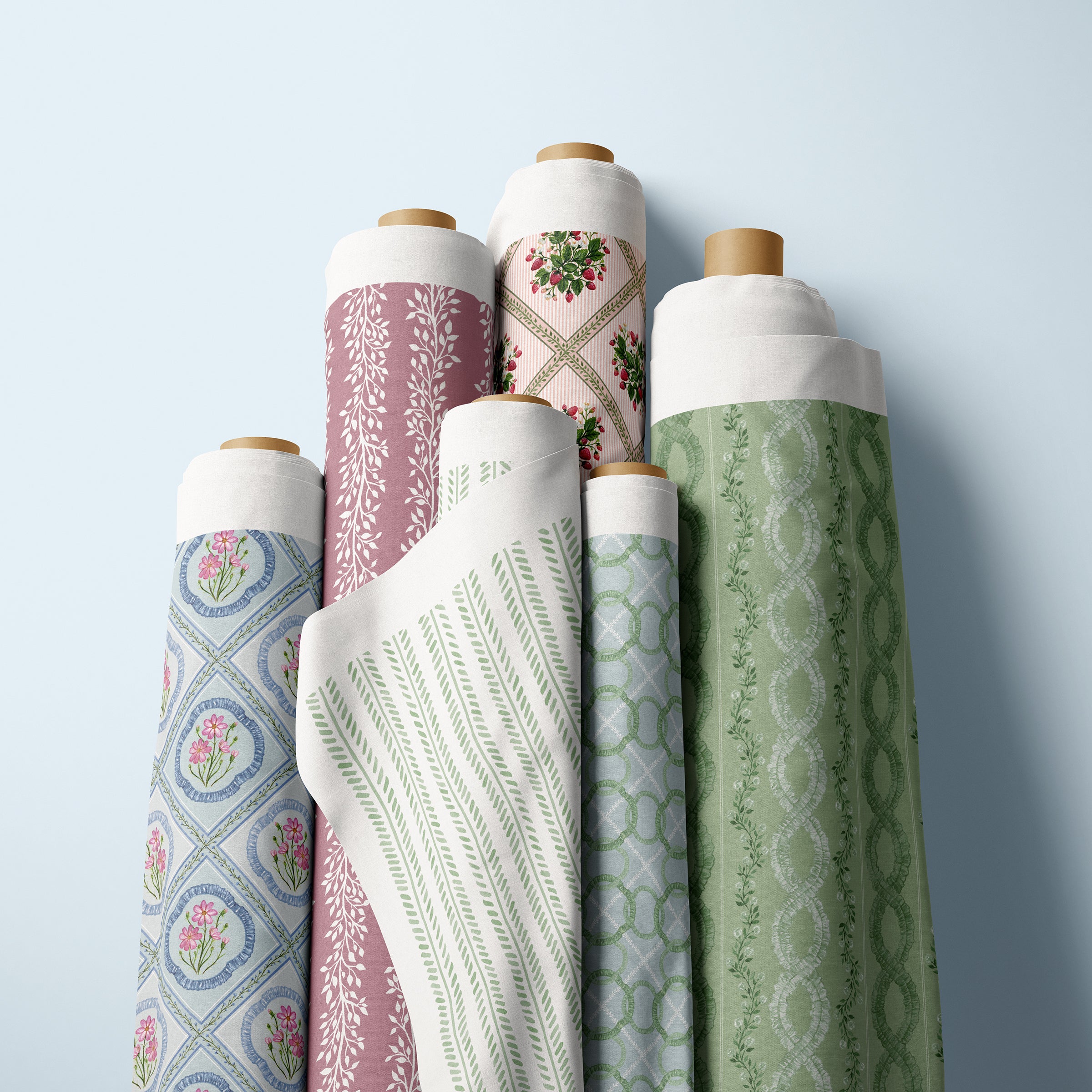 SHOP THE DEBUT COLLECTION
I've partnered with Spoonflower to make my patterns available on a variety of fabric qualities and wallpaper types suitable for design projects big & small.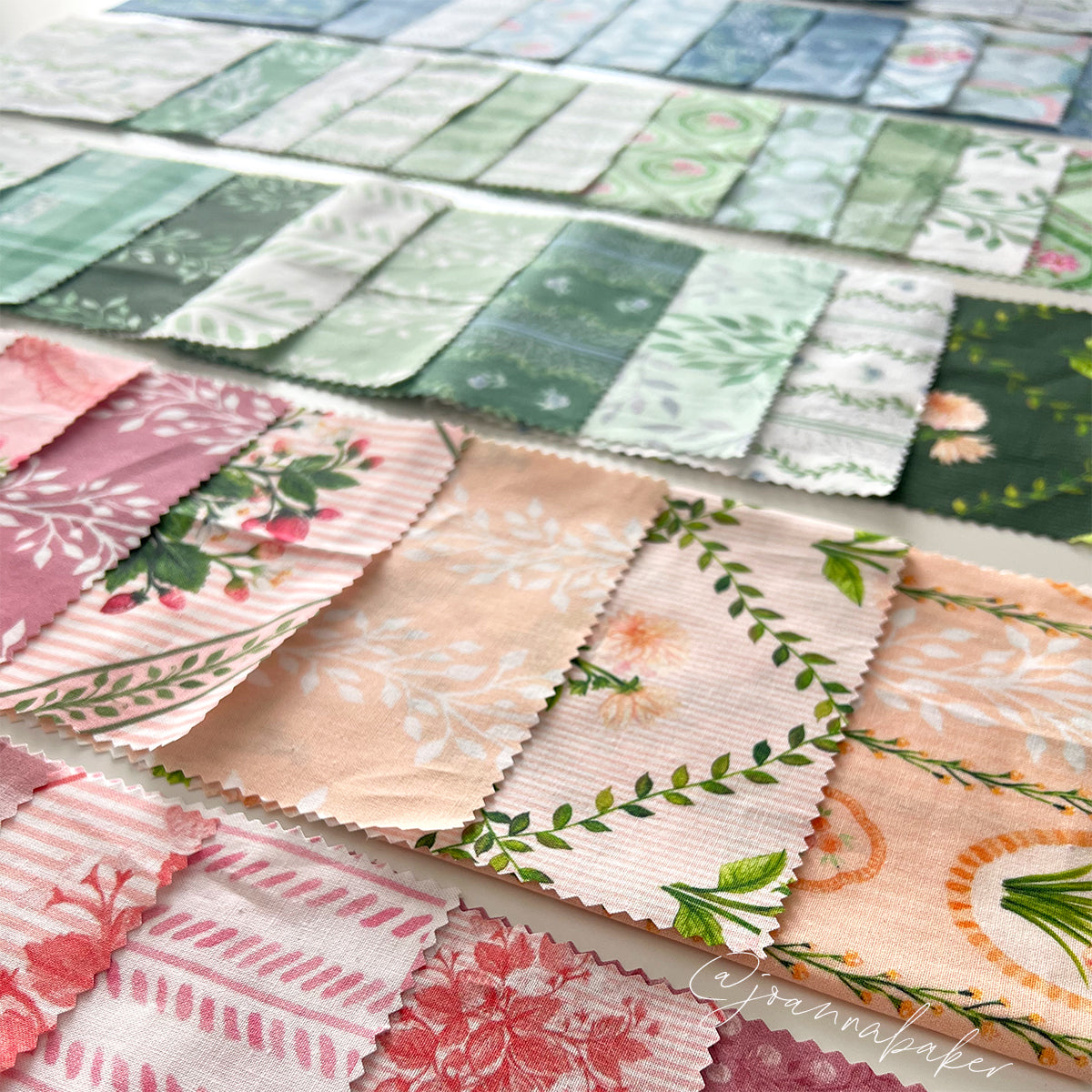 Fabric Collection by Pattern
Wallpaper Collection by Pattern
FAQ & Ordering Information
I've partnered with Spoonflower to offer my designs on fabric and wallpaper. Orders may be placed directly on their website and will be fulfilled by the Spoonflower team.
Visit my profile page on the Spoonflower website. Click here to view all available fabric patterns and click here to view all available wallpaper patterns.
Once there, click the pattern you'd like to purchase. Select the material type from the drop down menu in the pattern listing.
Next select the size. For fabric, you can order an 8x8 swatch, a fat quarter, or a yard. For wallpaper, you can order a 2'x1' swatch or a roll in various lengths.
Once you've selected your size, choose the quantity you'd like and then click add to cart.
One reason I love partnering with Spoonflower is that there are so many fabric and wallpaper options to choose from! The best material for you will depend on the application. You can read all about the different fabric qualities here and the different wallpaper options here. I highly recommend purchasing of swatch of your desired fabric or wallpaper first before ordering full yardage or wallpaper rolls.
Spoonflower has a very handy calculator for determining the number of wallpaper rolls you'll need for your project. Underneath the material dropdown in the product listing, click the "How Much Wallpaper Do I Need" link right next to the ruler icon and answer the questions to get your estimate.
I've designed many of my patterns in two different scales to accommodate a variety of projects. For patterns with multiple scales, you'll find the words "Smaller Scale" or "Larger Scale" at the end of the pattern name. Smaller scales are best suited for apparel, accessories, quilting, and smaller home decor projects like lamp shades or pillows. Larger scales are better suited for wallpaper, bedding and upholstery. I highly recommend purchasing a swatch in both scales to confirm the size for your specific project prior to placing your full order.
Spoonflower prints all orders on demand. Typical printing time is 4-12 business days depending on the type of items in your order. This does not include shipping and transit time. For more details on the timing of your order, please visit the Spoonflower website here.
Yes! Inside each pattern listing, there is text just below the "Add to Cart" button that reads "Also Available In." Click the link that says "Home Decor" and you can view the selected pattern on a wide variety of ready-made decor items like pillows, bedding, and table linens.
If you would like a pattern resized, I may be able to accommodate your request. Fabric is more flexible than wallpaper in terms of printing limitations. Scroll to the bottom of this page and fill out the scale change request form to submit your resize request.
If you see a pattern you love but would like it in a different colorway or matched to your specific decor colors, scroll to the bottom of the page to fill out the color change request form and I'll be in touch shortly.
All fabric and wallpaper orders on the Spoonflower website are made specifically for you and because of this, they are final sale. I highly recommend purchasing a swatch prior to ordering fabric yardage or wallpaper rolls. You can read more about Spoonflower's return policy here.
The Spoonflower team can assist you with all customer service related questions as I don't have visibility to your ordering information. You can find more details and reach out to them directly here.
Scale & Color Change Requests
If you see a pattern you love but would like it in scale than is not currently available, please use the form below and let me know which pattern you are interested in along with your requested repeat size and I'll get back to you within two business days.
Looking for specific colors to match your decor? I also offer color customization services for an additional fee. Please use the form below and include the pattern name along with the details of your request and I'll get back to you within two business days. Thank you!